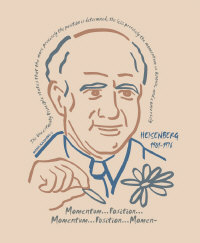 HEISENBERG
"The Uncertainty Principle states that the more precisely the position is determined, the less precisely the momentum is known, and conversely. "
Momentum...Position...
Momentum...Position...Momen-

3 colors on beige shirt.
When we traveled as a young family our favorite stops were science museums. Have fun and learn both, hard to beat. I have the attitude that any way people can be brought to enjoy science is good, including humor.
I intend to create more of these for other science, philosophy, and medical, personalities and discoveries, look for Planck, Bohr, Sartre, Edison, Tesla, and more.
I believe this theme will sell well. I know we would have bought t-shirts like these. Hope you like them. Ink and shirt colors may vary. Establishment can be included if desired.
Large front design on light colored T, 3 ink colors, available for $8.00 each at 6 dozen, mixed sizes OK. Discounts for large orders.
These designs may also be available on greeting cards, cup, aprons, bags, etc.
Main T-Shirt Page Colors Reunion T's
Copyrights Mark Kashino ©